Yuki
Gallery | Quotes | Relationship
Kana
ユキ
Romaji
Yuki
Voiced by
Aiko Okubo
Physical Appearance
Monster Species
Yukionna
Gender
Female
Hair
White
Eye
Purple
Monster Profile
Occupation
Exchange Student
Media Debut
Yuki is a Yuki-onna that appears in Monster Musume: Everyday Life with Monster Girls Online.
Appearance
Edit
Yuki, as befitting for her name and race, is a tall, slender, elegant woman with pale white skin and long, pale hair reaching her knees. Her body temperature runs around 0°C.
She wears a kimono adorned with snowflakes.
Personality
Edit
Skills and Traits
Edit
Zoological Classification
Edit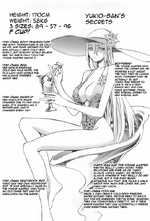 A Yuki-onna (雪女) is a psudeohuman that appears in Japanese folklore as a snow spirit of inhuman beauty that appears before travelers trapped in snowstorms with the purpose of killing them.
While the Yuki-onna race is not inherently malevolent, their stoic demeanor and their natural environment being hazardous to humans, may have given rise to myths that they intentionally cause deaths.
While possessing elemental control over ice and snow, Yuki-onna can not live in high temperate environments without assistance.

Her name is Japanese for "Snow" (

雪

Yuki

?

), as well as referencing her species.
Ad blocker interference detected!
Wikia is a free-to-use site that makes money from advertising. We have a modified experience for viewers using ad blockers

Wikia is not accessible if you've made further modifications. Remove the custom ad blocker rule(s) and the page will load as expected.