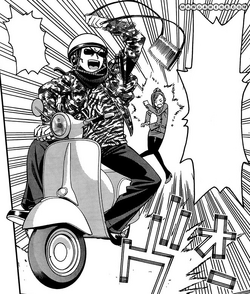 Vespa is an Italian brand of scooter manufactured by Piaggio.
Originally a single motor scooter manufactured in 1946 to address traveling on the war-torn roads of post-World War II Italy, the Vespa model extended into a full line of scooters and had become its own brand by the 1970's.

"Vespa" means "wasp" in Italian.
The Purse Thief encountered by Centorea and Kimihito claim that his vespa is a "Model 36", however, no such model exists by that name. Visually, his vespa resembles the 1963, VBB 150 model.
Ad blocker interference detected!
Wikia is a free-to-use site that makes money from advertising. We have a modified experience for viewers using ad blockers

Wikia is not accessible if you've made further modifications. Remove the custom ad blocker rule(s) and the page will load as expected.