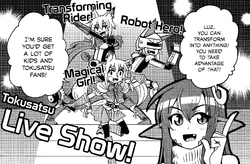 A Tokusatsu Show is a Japanese term used to refer to any live-action films or television shows that feature considerable use of special effects.
The most popular types of tokusatsu shows include Kaiju monster movies like the Godzilla, Gamera and Giant Robot film series (which are famed for the use of costume suits); superhero TV serials such as the Kamen Rider and (now defunct) Metal Hero series (which use pyrotechnics and physical stuntwork).
Some tokusatsu programs combine several of these subgenres, for example the Ultra and Super Sentai (and Super Sentai's American adaptation series, Power Rangers) series use both monster suit/robot costumes, pyrotechnics and physical stuntwork.
Ad blocker interference detected!
Wikia is a free-to-use site that makes money from advertising. We have a modified experience for viewers using ad blockers

Wikia is not accessible if you've made further modifications. Remove the custom ad blocker rule(s) and the page will load as expected.