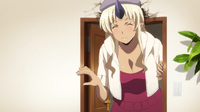 This page deals with Tio's interactions with the other characters.
Right off the bat, Tionishia is extremely friendly towards Kurusu. During their date to lure out 'D', she gains an infatuation with him after he offers to modify a dress for her.
Kurusu Household Guests
Edit
Monster Community
Edit
Ad blocker interference detected!
Wikia is a free-to-use site that makes money from advertising. We have a modified experience for viewers using ad blockers

Wikia is not accessible if you've made further modifications. Remove the custom ad blocker rule(s) and the page will load as expected.