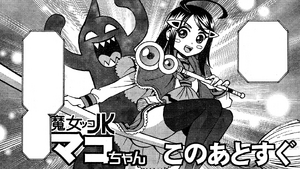 Sweetie Witch Makochan (魔女っ子JK魔子ちゃん, Majokko JK Mako-chan, lit. Magical High School Girl Mako-chan) is a fictional anime that seems to have a popular following within the magical girl genre.
Doppel transformed into Mako in chapter 11 and 40.

The character seems to be based off of one of Okayado's first works, Mamama ~Mahou iinchou mako-chan no mahou shidou~.
Ad blocker interference detected!
Wikia is a free-to-use site that makes money from advertising. We have a modified experience for viewers using ad blockers

Wikia is not accessible if you've made further modifications. Remove the custom ad blocker rule(s) and the page will load as expected.