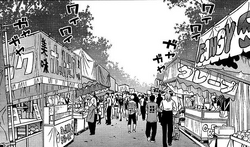 A Summer Festival is a Japanese neighbourhood festival or fair, usually sponsored by a local shrine or temple, that is held in honour of an enshrined Kami and/or Buddha for the recreation of local residents, friends and visitors in summer.
Booths selling souvenirs, food and Festival Masks, and games, such as Goldfish Scooping and Shooting Galleries, are a staple of these festivals/fairs.
"Matsuri" is the Japanese word for a festival or holiday.
There are no specific festival days for all of Japan; dates vary from area to area, and even within a specific area, but festival days do tend to cluster around traditional holidays such as Setsubun or Obon. Almost every locale has at least one festival in late summer/early autumn, usually related to the rice harvest.
Ad blocker interference detected!
Wikia is a free-to-use site that makes money from advertising. We have a modified experience for viewers using ad blockers

Wikia is not accessible if you've made further modifications. Remove the custom ad blocker rule(s) and the page will load as expected.