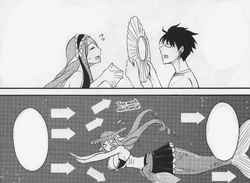 The Shampoo Hat is a pseudo bathing cap worn to keep shampoo suds away from the face.
The hat is most commonly worn by and associated with children as adults are considered experienced enough with cleaning their hair to know how to avoid shampoo suds making contact with their eyes without the use of a hat.
Ad blocker interference detected!
Wikia is a free-to-use site that makes money from advertising. We have a modified experience for viewers using ad blockers

Wikia is not accessible if you've made further modifications. Remove the custom ad blocker rule(s) and the page will load as expected.