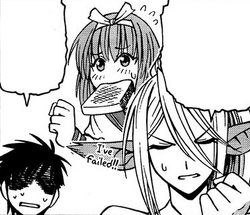 The Running with Toast Trope is a common media trope found in Japanese literature such as romantic comedies, school-life and/or Shoujo-oriented material.
Commonly used to establish a character, the image of the trope is that of an individual running down the street with a slice of toast hanging out of their mouth, dragging their backpack with one hand while trying to put on their jacket or sweater with the other in a last ditch attempt to make it to their destination on time (usually school).
While rushing down the street, they will usually bump/crash into another character in a manner that gets the plot started.
Some of the earliest examples of literature that first used this trope were "Tsuraize! Boku-chan" (1975) and "Patty's First Love" (1967), however, by the 1980's this trope had been used so much in modern material that it had become known as a cliche in modern writing practises.
In Japan, there is a stigma against eating in public (outside of an eatery) and as such this trope establishes the character as possessing a minor flaw in social etiquette awareness (on top of being late and rushing).
Ad blocker interference detected!
Wikia is a free-to-use site that makes money from advertising. We have a modified experience for viewers using ad blockers

Wikia is not accessible if you've made further modifications. Remove the custom ad blocker rule(s) and the page will load as expected.