Rei
Gallery | Quotes | Relationship
Kana
レイ
Romaji
Rei
Voiced by
Yuu Asakawa
Physical Appearance
Monster Species
Ghost
Gender
Female
Hair
White
Eye
Blue
Monster Profile
Occupation
Exchange Student
Media Debut
Rei is a Ghost that appears in Monster Musume: Everyday Life with Monster Girls Online.
Appearance
Edit
She wears only an old damaged pair of jeans. The rest of her body is naked.
Personality
Edit
Skills and Traits
Edit
Ghost Physiology:

Energy Absorbtion: As they can not derive energy from nutrient intact, ghosts gain energy from absorbing the thermonuclear or electrical energies around them. This often results in "Cold Spots" forming as the ghost absorbings the heat in the area for energy. In addition to thermonuclear and electrical energies, ghosts can also absorb "life energy" from living beings to sustain themselves. Depending on how much energy the ghost absorbs the process can often leave the living being tired and physically weakened.
Zoological Classification
Edit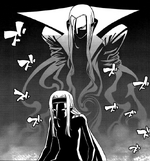 A Ghost is the soul or spirit of a deceased being that no longer has a physical body to "occupy" but is still present in the living world for varying reasons.
Able to alter their visibility and shape depending on how powerful they are, ghosts are reportedly able to display abilities that otherwise negate the laws of time and physics. They are most notably able to, depending on how strong they are, perform varying levels of telekinesis and take possession of other beings.
Reports of ghosts manifesting within human culture is widespread, dating back to pre-literate history. They are believed tend towards occupying particular locations, objects, or people they were associated with in life.
Rei (

霊

?

) is the Japanese word for "spirit".
Life energy is often considered the most potent form of energy, with a being's own soul/spirit being the apex of the most ideal energies to absorb; however, only the most malicious entities will endeavour to absorb a being's soul for their own sustenance. Those that do, however, will often either absorb copious amounts of life energy from the host over an extended period of time until the soul/spirit beneath is exposed for them to absorb or they will induce the host into an increasing sexual state; during which the being's body will be fooled into emitting steadily increasing levels of life energy in preparation for mating with the malicious entity. The output of life energy will continue up to orgasm; at which point the host's life energy output explodes exponentially and their soul is exposed for the entity to absorb. The entity will then latch onto and siphon out the soul either by forcibly coercing it out of the being via their mouth, nipples or genitals while the being is orgasming or by inserting an appendage such as a tentacle into the being's body and siphoning their soul/spirit through the appendage into their own body. The absorption of the soul/spirit instantly kills the being or otherwise renders them "undead".