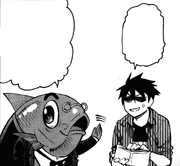 Potemkinme (ポチョムキンメ, Pochomukinme) is the head butler of Neptune royal family.
Appearance
Edit
Potemkinme is an anthropomorphic fish, with arms and legs where his fins would normally be. Because of this, he appears to be hunched over, so that his face can actually face forward. He is a Kinmedai (Splendid alfonsino), and is short and stocky compared to Sabastian. He also has comically small glasses perched on his face, and wears a tuxedo.
Personality
Edit
Potemkinme is excitable and boisterous, appearing to be in a perpetual state of aggressive enthusiasm over everything he does. He takes a great deal of pride in his job, and becomes very upset when things do not go as planned. He also appears to be rather haughty, berating Kimihito, Suu, Centorea, Papi, and Miia for not immediately bowing down upon learning of Mero's heritage. However, he also shows a great deal of gratitude when Kimihito helps the cooks save their dinner.
Potemkinme first appears at the end of chapter 34, revealing that he and Potemkinme are responsible for hiring Mero's security detail. In the next chapter, they insist that Mero visit the hotel that her mother is staying at to speak with her. At the hotel, he insists on having the entire group say, noting that the kingdom will cover all of their expenses in repayment for Kimihito's care of Mero. He is next seen panicking over the lack of food that the chefs have to cook for dinner, but is relieved when Kimihito steps up to fix a new set of meals for the hotel, expressing gratitude for it.
His name might be a reference to Russian nobleman Grigory Potemkin, best known for building fake towns for no other reasons than to impress people, or a reference to Potemkin from the Guilty Gear series.

In the official translation, "Potemkinme" is called "Flounnder" by Mero.
Ad blocker interference detected!
Wikia is a free-to-use site that makes money from advertising. We have a modified experience for viewers using ad blockers

Wikia is not accessible if you've made further modifications. Remove the custom ad blocker rule(s) and the page will load as expected.