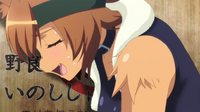 This page deals with Polt's interactions with the other characters.
Kurusu Household Guests
Edit
There was not much interaction between the kobold and the dullahan. After Polt shook hands with each member of the Kurusu household when they first met, the kobold was seen playing with the dullahan's detachable head as if it was a ball for a short period of time before the Kurusu household tried out the gym.
Monster Community
Edit