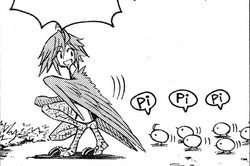 Papi's Chickies are a group of baby chicks that Papi took to playing with during her time at the Farm with Kimihito Kurusu and Centorea Shianus.
Possibly attracted to her bird-like appearance, the chicks followed Papi around the farm; resulting in the eventual discovery of Cathyl's discarded Breast Pumps.

When it came time to leave, Papi stubbornly refused to leave without her "chickies"; locking herself inside the hen house with them as Cathyl and Merino tried to convince her to leave.
One of the chickies sported an Ahoge similar to Papi's. This chickie was named "Piyoko" (ピヨコ).

In the official translation, "Piyoko" is named "chicklet" by Papi.
Ad blocker interference detected!
Wikia is a free-to-use site that makes money from advertising. We have a modified experience for viewers using ad blockers

Wikia is not accessible if you've made further modifications. Remove the custom ad blocker rule(s) and the page will load as expected.