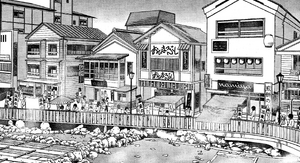 The Onsen Town is a small tourism town built around a series of hotspring outlets. As such the town's largest commodity are Onsen hotels. Kimihito Kurusu and his house guests stay at this town while traveling after the destruction and repair of his house.
Locations
Edit
Ad blocker interference detected!
Wikia is a free-to-use site that makes money from advertising. We have a modified experience for viewers using ad blockers

Wikia is not accessible if you've made further modifications. Remove the custom ad blocker rule(s) and the page will load as expected.