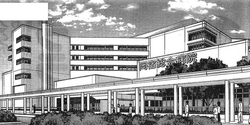 The Okayado General Hospital is a public hospital that Kimihito Kurusu is first sent to in Chapter 38 after nearly drowning in Chapter 37.
While the resident doctors found nothing physically wrong with Kimihito, the very fact that they found nothing physically wrong, in spite of his numerous reported injuries and near death experiences, caused them to hold him for further tests.
Ad blocker interference detected!
Wikia is a free-to-use site that makes money from advertising. We have a modified experience for viewers using ad blockers

Wikia is not accessible if you've made further modifications. Remove the custom ad blocker rule(s) and the page will load as expected.