Okayado (Alias Takemaru Inui, 乾 武丸 (Inui Takemaru)) is a manga artist and creator of Monster Musume: Everyday Life with Monster Girls.
Originally spending his time creating monster girl artwork, the popularity of Living with Monster Girl lead to him trying his hand at creating Monster Girl Report before attempting to start the long-term manga series Monster Musume: Living with Monster Girl.
On May 19th, 2016, BookWalker Global announced that Okayado will be their special industry guest at Anime Expo 2016 held at the Los Angeles Convention Center on July 1-4. It will be his first appearance ever at a North American convention. According to BookWalker Global's website, he will be having a live drawing & QA panel along with several autograph sessions.
While working as an assistant artist for Naoki Serizawa (drawing Resident Evil: The Marhawa Desire), Okayado posted his own single panel comics on 2chan; posting entire comic strips on his Pixiv account when he had enough comic panels created.
While he was reportedly happy working as an assistant, another of Serizawa's assistants had become abusive towards the other assistants and so Okayado opted to leave and work as an independent mangaka for Kodansha.
His first independent work was MaMaMa: Mahou Iinchou Mako-chan Mahou Shidou which was published in Magazine Special by Kodansha.
When MaMaMa was about to end, Mikio Ikai (an editor at Comic Ryu magazine) was directed by some mangaka to look at Okayado's work on Pixiv. Not knowing that Okayado was already a professional mangaka, Ikai emailed him with an offer to create a manga series for Comic Ryu.
Full Metal Burst (one-shot, 2009)
Monster Girl Report (2011-2012)
Monster Musume: Everyday Life with Monster Girls (one-shot, 2011, collected in volume 9)
Deadline Summonnr (one-shot, 2012)
12 Beast (2013-)
Appearance
Edit
Okayado represents himself with "Okayadokari" (オカヤドカリ), a simple hermit crab with a torticone shell. Unlike normal hermit crabs Okayado's claws are fountain pen tips. This allows him to draw.
Two of the mangaka that recommended Okayado's Pixiv work were Ike (creator of Neko Musume Michikusa Nikki) and Kei Murayama (creator of A Centaur's Life). Both of whom were already published mangaka for Comic Ryu.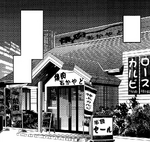 It is revealed in Chapter 19 that the number plate of Smith's car is "Okayado 501".
In Chapter 25, the cast go to a restaurant named Yakiniku Okayado.
Centorea's room features a mantra displayed on the wall; "Unity of Horse and Rider", signed by Okayado.
In Chapter 27, Miia and Kimihito hide from Miia's Mother inside a refrigerated garage featuring Okayado's name.
In Chapter 32, the credits shown on the TV set for the show "Magical High School - Mako-chan" include Inui Takemaru (Okayado's Alias) for Character Design.
Okayado makes frequent cameo appearances throughout the Monster Musume: Everyday Life with Monster Girls anime series.
Okayado makes a cameo appearance in Monster Musume: Everyday Life with Monster Girls OAD.
His birthday is the 15th of December.