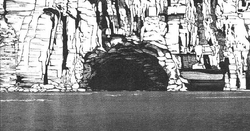 Oct's Cave is a ocean-side cavern located on the side of a cliff face near Japan.
As the home residence of the Scylla Oct, the cavern is frequently sought out by members of the mermaid kingdom who wish to meet with Oct as they believe her to be a sea witch with the knowledge and power to aid them in various subjects.
As she is not actually a sea witch, Oct has attempted to dissuade these "visitors" by lining the entrance of her cavern with giant Sea Anemone's.
Deeper within the cavern is a sunlit grotto where Oct has built an ocean-side restaurant where she practices her trade as a Takoyaki vendor.