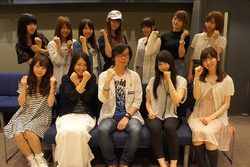 The following is the Seiyu/Voice Actor list for the Monster Musume: Everyday Life with Monster Girls anime series.
With the commencement of production for the Monster Musume: Everyday Life with Monster Girls anime series, animation studio Lerche began hiring seiyu voice actors to play the parts of the show's various characters; revealing the full seiyu list in segments starting with the "main three girls" (Miia, Papi, Centorea) and revealing more as the show was aired to help build anticipation for coming episodes.
Sourced from various companies, many of the show's seiyu have worked in previous anime shows such as Attack on Titan, Girls und Panzer, Hitsugi no Chaika and Maria Holic.
| Character | Japanese Voice Artist | English Voice Artist |
| --- | --- | --- |
| Kimihito Kurusu | Junji Majima | Bryson Baugus |
| Miia | Sora Amamiya | Allison Sumrall |
| Papi | Ari Ozawa | Brittney Karbowski |
| Centorea Shianus | Natsuki Aikawa | Molly Searcy |
| Suu | Mayuka Nomura | Monica Rial |
| Meroune Lorelei | Haruka Yamazaki | Maggie Flecknoe |
| Rachnera Arachnera | Sakura Nakamura | Courtney Lomelo |
| Smith | Yu Kobayashi | Shelley Calene-Black |
| Doppel | Saori Oonishi | Emily Neves |
| Manako | Momo Asakura | Jad Saxton |
| Tionishia | Yurika Kubo | Christina Stroup |
| Zombina | Rei Mochizuki | Kira Vincent-Davis |
| Draco | Airi Ootsu | Rachel Landon |
| Kii | Asami Seto | Tiffany Terrell |
| Lilith | Atsumi Tanezaki | Mina Getois |
| Lala | Ai Kakuma | Carli Mosier |
Others
In celebration of the anime, Okayado drew a series of pictures of Centorea, Miia and Papi cosplaying as some characters their respective voice actors had previously voiced: Centorea cosplays as Ms. Baker (Gundam Build Fighters) and Petra Ral (Attack on Titan), Miia cosplays as Elizabeth Liones (Seven Deadly Sins) and Papi cosplays as Chiyo Sakura (Monthly Girls' Nozaki-kun) and Prinz Eugen (Kantai Collection).
The Japanese seiyuu of Rachnera Arachnera, Sakura Nakamura, hosted a "Everyday Conversation with Monster Girls" Q&A event at the Toranoana Akihabara Store on the 29th, November 2015. During the event she bound each participant's hands together with an autographed black ribbon featuring her character's likeness. Okayado attended the event and also got bound by the actress.