The following is a list of Memes and fan-created tropes associated within Monster Musume and its fandom.
Character Specific
Edit
Centorea Shianus
Edit
Does this look like the face of mercy?:
Meroune Lorelei
Edit
Rachnera Arachnera
Edit
Loli Rachnera:
Spooder:
Caffeinated Spider: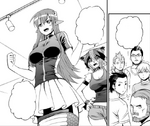 Everyday Life With Bicycle Cop: A fan-created scenario where the Bicycle Police Officer had his own band of house stay girls.
TTF Loves Polt: A meme that arose in 4chan following the revelation that one of the resident fan translators (TanktopFag) preferred Polt as his favourite character. Learning of this, Okayado would later make TTF appear in Chapter 43 as one of the sportspeople in Polt's gym.
Touch the Cow, Do it Now!:
Polt Gyat:
Ad blocker interference detected!
Wikia is a free-to-use site that makes money from advertising. We have a modified experience for viewers using ad blockers

Wikia is not accessible if you've made further modifications. Remove the custom ad blocker rule(s) and the page will load as expected.