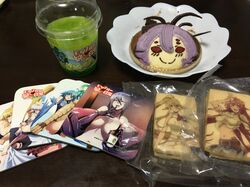 To celebrate the release of Volume 10 of the Monster Musume manga series, Patisserie Swallowtail Collaboration Sweets set up a temporary Monster Musume Cafe in the 4th floor of K-Books Akihabara Radio Hall at Akihabara, Tokyo, from the 11th to the 19th June 2016.
In addition to Monster Musume merchandise, the cafe featured Rachnera-cake, Suu-melon jelly-drinks and picture-themed biscuits and coasters.

During the cafe's operation, Okayado himself visited the location.
External Links
Edit
Ad blocker interference detected!
Wikia is a free-to-use site that makes money from advertising. We have a modified experience for viewers using ad blockers

Wikia is not accessible if you've made further modifications. Remove the custom ad blocker rule(s) and the page will load as expected.