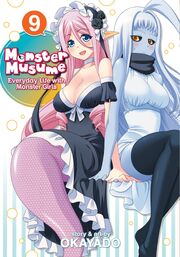 Monster Musume: Everyday Life with Monster Girls (モンスター娘のいる日常, Monster Musume no Iru Nichijou) Volume 9 is the ninth volume of the Monster Musume: Everyday Life with Monster Girls manga series. Containing four chapters, three bonus comics and the pilot chapter for the series, this volume covers the group's misadventures against the mysterious Oct as Meroune's mother summons her daughter for a meeting about her future in the exchange program.
Serialized in Monthly Comic Ryū magazine, the serialized chapters were collected and published in tankōbon volumes by Monthly Comic Ryū in Japan and later translated for an English release by Seven Seas Entertainment.
Volume nine was released in Japan by Monthly Comic Ryū on the 13th February, 2016, and translated and released for English audiences by Seven Seas Entertainment on the 30th August, 2016.
Included in the volume is a "Secrets" page focusing on Oct, the pilot chapter of the series and three bonus Omake where Oct hosts an advice show, Centorea and Miia apply for membership with the Eel Mermaid Massage Parlour and Zombina instructs Yuhi on proper zombie-body care.