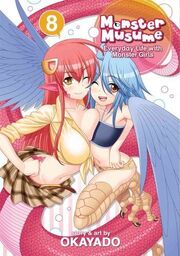 Monster Musume: Everyday Life with Monster Girls (モンスター娘のいる日常, Monster Musume no Iru Nichijou) Volume 8 is the eighth volume of the Monster Musume: Everyday Life with Monster Girls manga series. Containing four chapters and two bonus comics, this volume covers the group's misadventures at an onsen inn and the surrounding town after the girls accidentally damage their house in Saitama.
Serialized in Monthly Comic Ryū magazine, the serialized chapters were collected and published in tankōbon volumes by Monthly Comic Ryū in Japan and later translated for an English release by Seven Seas Entertainment.
Volume eight was released in Japan by Monthly Comic Ryū on the 13th March, 2015, and translated and released for English audiences by Seven Seas Entertainment on the 11th August, 2015.
Included in the volume are "Secrets" pages focusing on Yukio, Luz Ninetei, the farm girls and Liz and Kinu, a bonus Omake where the girls all spend time in Yukio's hotspring, and two posters advertising the Ranch and Sno Ball Hotspring Resort's Interspecies Exchange Party.