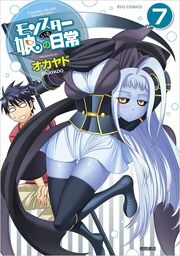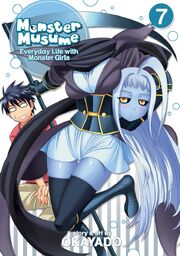 Monster Musume: Everyday Life with Monster Girls (モンスター娘のいる日常, Monster Musume no Iru Nichijou) Volume 7 is the seventh volume of the Monster Musume: Everyday Life with Monster Girls manga series. Containing four chapters and two bonus comics, this volume introduces the mothers of Miia, Papi and Centorea and the resulting chaos when they come to visit their daughters in Japan.
Serialized in Monthly Comic Ryū magazine, the serialized chapters were collected and published in tankōbon volumes by Monthly Comic Ryū in Japan and later translated for an English release by Seven Seas Entertainment.
Volume seven was released in Japan by Monthly Comic Ryū on the 13th March, 2015, and translated and released for English audiences by Seven Seas Entertainment on the 11th August, 2015.
Included in the volume was a "Secrets" page focusing on the BWH Measurements of the three "MonsterMilfs", a bonus Omake where the three mothers compare their species' marital traditions, and a short Omake where Smith ponders the identity of Papi's Mother's husband.
This volume reveals that each of the first three home stays - Miia, Papi and Centorea - were born to human men.
Ad blocker interference detected!
Wikia is a free-to-use site that makes money from advertising. We have a modified experience for viewers using ad blockers

Wikia is not accessible if you've made further modifications. Remove the custom ad blocker rule(s) and the page will load as expected.