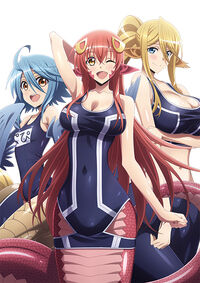 OAD 1: Everyday Life at the Pool (ジムでプールな日常 Jimu de Pūru na Nichijō) is an Original Anime DVD released with the manga's eleventh volume on 11th November 2016. The OAD is an animated adaption of Chapter 17 of the Monster Musume: Everyday Life with Monster Girls manga series.
Like the animated series, the OAD is directed by Tatsuya Yoshihara and written by Kazuyuki Fudeyasu, with animation by animation studio Lerche.
Everyone was getting measured and found out they were gaining weight, but they can't leave to exercise without Kimihito. So, Smith takes the girls to a gym suited for Monster Girls. There they met the Gym Manager named Polt; a kobold. She takes everyone on a tour to explain how to use each exercise equipment.
After credit Beastiary
Edit
Werewolf
Werecat
Werefox
Wererabbit
Difference from the Manga
Edit
In the manga, only Kimihito, Miia, Cerea and Mero go to the gym while Rachnera stays home to look after Papi and Suu. M.O.N. and Smith also don't go to the gym in the manga, while Lala doesn't appear in the chapter at all.