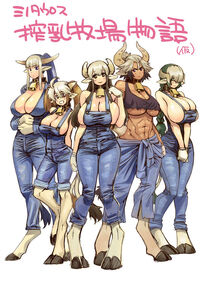 The Minotaur's Milking Ranch is a series of 13 erotic artworks created by Okayado and posted on his Twitter page on November 2016.
Centred around five Minotaur girls, the series' premise is centred around various milking and massage techniques the girls can undergo when they attend the ranch.

Ad blocker interference detected!
Wikia is a free-to-use site that makes money from advertising. We have a modified experience for viewers using ad blockers

Wikia is not accessible if you've made further modifications. Remove the custom ad blocker rule(s) and the page will load as expected.