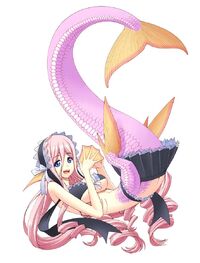 These are the various relationships Meroune Lorelei has or had over the series.
Mero first meets Kimihito after he saves her after Mero looses control of her wheelchair going down a hill. She later joins the Kurusu household and have a strong desire to become Kimihito's mistress and wants to be in a tragic relationship with him. Her will to have a tragic relationship also causes Kimihito to drown. After the events at the Mermaid Kingdom, Mero ditches the idea of being Kimihito's mistress, wanting to be his wife instead.
Fellow House Guests
Edit
Monster Community
Edit
Ad blocker interference detected!
Wikia is a free-to-use site that makes money from advertising. We have a modified experience for viewers using ad blockers

Wikia is not accessible if you've made further modifications. Remove the custom ad blocker rule(s) and the page will load as expected.