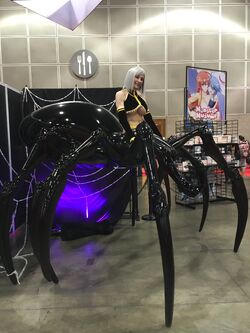 Marie-Claude Bourbonnais is a French-Canadian costume maker, cosplayer and glamour model. A former Fashion Designer, Bourbonnais is personally involved in sewing her own costumes and building props and sets for her own photoshoots.
Starting her career working with the Marto Napoli radio show and nightclub events in Quebec City, 2007, Bourbonnais then turned to work as a glamour model for various photographers in North America which led to her being featured in a major advertising campaign that further popularised her image. But it wasn't until 2009 when Bourbonnais decided to create her own cosplay of Frost (Mortal Kombat) for a photoshoot that she became aware of the comic/videogame convention and cosplay community.
Attending her first comic convention in 2010 (in which she designed and wore her own costumes), Bourbonnais used her contacts from her modelling career to develop a costume out of latex (which was largely only used in fetishist circles at the time) to cosplay as Sue Storm (Fantastic 4) for the New York Comicbook Convention 2010. Her work inspired a thematic fusion in the cosplay and glamour model industries and solidified Bourbonnais' reputation in the cosplay industry.
Bourbonnais is now known as a "technical cosplayer" who builds high quality costumes, props, and sets for photoshoots. She owns a workshop fully equipped for clothing and costume making, including a large variety of sewing machines, and leatherwork tools and equipment. Her workshop is also equipped for prop making, including sculpting, molding, fiberglass, woodworking equipment and tools, etc. In addition the workshop houses a photo studio.
In 2016, Bourbonnais created and displayed her own cosplay of Rachnera Arachnera, in co-operation with Ninja Division and Seven Seas Entertainment, at the 2016 Anime Expo in Los Angeles, July 1st-4th.
Bourbonnais is an actress in Heroes of the North; a live action webseries about Canadian superheroes in which she plays the role of Hornet. The Heroes of the North brand developed its own comic books and figures which feature Bourbonnais' character and she was also commissioned by the show's producer to design and produce various leather outfits that were used in the show's second season.
Bourbonnais also works as a model for American board games company Soda Pop Miniatures after she first made the costume of one of their characters, Candy. In the next few years, Soda Pop Miniatures integrated her as a character in their games Tentacle Bento, Relic Knights, Super Dungeon Explore, and Karate Fight, producing drawings and miniatures based on her image and figure. Later, she also started to collaborate with the Italian designer Paolo Parente who hired her to personify Koshka, one of the main characters in his board game Dust Tactics.
External Links
Edit