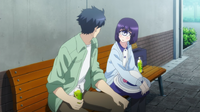 This page deals with Manako's interactions with the other characters.
Unnamed male human co-workers in chapter 42
Edit
Kurusu Household Guests
Edit
Manako was assigned surveillance duty on the date between Kimihito and Centorea to find out the culprit. She was somewhat scared when centaur shouted at her through the phone.
Monster Community
Edit