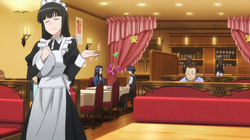 A Maid Café is a type of cosplay restaurant found predominantly in Japan.
In these cafés, waitresses dress in maid costumes and act as the household servants of their customers; referring to them as "Master/Mistress" and generally acting in a sub-servile manner.

The first permanent maid café, Cure Maid Café, was established in Akihabara, Tokyo, in March 2001.
The male equivalent of the "Maid Café" is the "Butler Café", which acts in a similar manner to the "Maid Café" but with male waiters dressed as butlers instead of female waitresses dressed as maids.
Ad blocker interference detected!
Wikia is a free-to-use site that makes money from advertising. We have a modified experience for viewers using ad blockers

Wikia is not accessible if you've made further modifications. Remove the custom ad blocker rule(s) and the page will load as expected.