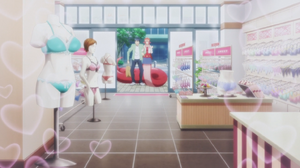 Lingerie Shop Melusine is a ladies underwear and lingerie shop located in one of Tokyo's shopping districts. The shop is unique in that it caters to both human and liminal clientèle (possessing underwear and lingerie for species in addition to humans.
A Melusine is an aquatic subspecies of Lamia characterised by the pair of dragon wings adorned on their backs.
Ad blocker interference detected!
Wikia is a free-to-use site that makes money from advertising. We have a modified experience for viewers using ad blockers

Wikia is not accessible if you've made further modifications. Remove the custom ad blocker rule(s) and the page will load as expected.