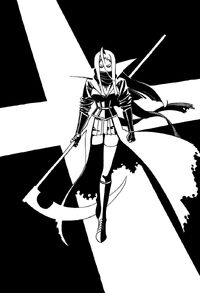 <Lala This page deals with Lala's interactions with the other characters.
Her relationship with Kimihito is more complicated than the other girls. Whereas many of them are trying to win his hand in marriage, Lala seems to have no interest in the matter. However, she does tell Kimihito when he dies his soul belongs to her due to her duties as a dullahan; though this could mean she is willing to wait until the end of his natural life, no matter the length, to be with him, showing an incredible amount of patience when compared to many of the other girls with whom she lives. Or it could mean that she is just interested in him sexually.
Though her body seems to be a lot more honest about her feelings towards Kimihito; when Kimihito crashed into her, the body became aroused and happily embraced him while the head looked on in embarrassment.
Fellow House Guests
Edit
Monster Community
Edit
Ad blocker interference detected!
Wikia is a free-to-use site that makes money from advertising. We have a modified experience for viewers using ad blockers

Wikia is not accessible if you've made further modifications. Remove the custom ad blocker rule(s) and the page will load as expected.