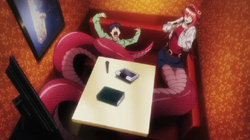 Karaoke (カラオケ) is a form of interactive or video game entertainment in which an amateur singer tries to sing the lyrics displayed on screen while being accompanied by a vocal-less track. The singer uses a microphone that is attached to the system.
The lyrics typically changes in color, a symbol follows it or graphic transitions take place to guide the singer. The songs featured are commonly popular minus-one songs meaning the lead vocalist is removed. Karaoke boxes are often referred as KTVs in Asian countries, China and Korea to name a few. Sound engineers also use this term as "empty track" meaning there is no vocal track.
Ad blocker interference detected!
Wikia is a free-to-use site that makes money from advertising. We have a modified experience for viewers using ad blockers

Wikia is not accessible if you've made further modifications. Remove the custom ad blocker rule(s) and the page will load as expected.