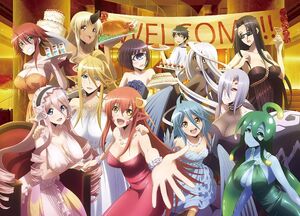 The Interspecies Exchange Party was a live stage event held at the Tokyo Metropolitan Hibiya Public Hall on November 15, 2015.
Featuring the voice cast of the Monster Musume: Everyday Life with Monster Girls anime show (Junji Majima (Kimihito Kurusu), Sora Amamiya (Miia), Ari Ozawa (Papi), Natsuki Aikawa (Centorea Shianus), Mayuka Nomura (Suu), Haruka Yamazaki (Meroune Lorelei),Sakura Nakamura (Rachnera Arachnera), Yuu Kobayashi (Kuroko Smith), Momo Asakura (Manako), Yurika Kubo (Tionishia), Saori Onishi (Doppel) and Rei Mochizuki (Zombina)), the event had the presenters singing, performing skits, and engaging in impromptu contests.
There was also a raffle where each voice actor gave away an item related to their character:
Miia: Snakeskin wallet, signed
Papi: Blue feather quill
Centorea: Striped horseshoe, signed
Suu: Make-slime kit, signed
Mero: Mero's gothic lolita headband
Rachnera: Large bundle of thick rope
Smith: Smith's sunglasses, signed
Manako: Four packs of eyedrops
Tio: Large pair of tiger-striped pants, signed
Zombina: Sewing kit w/metal case, signed
Doppleganger: White shirt with the word "Doppleganger" on the front, drawing of three identical figures facing each other in shock (clever), signed
Kimihito: Huge promotional poster of Monmusu (the one with all the girls), signed by everyone
The event also featured sales of special Monster Musume goods, such as special edition microfiber towels featuring nude images of Miia, Papi and Meroune, and cushions featuring nude images of Centorea and Rachnera.
A recording of the event is featured in the Almost Daily OO! Sort of Live Video BlueRay collection.