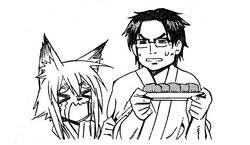 Inari Sushi (稲荷寿司, Inari-zushi?) is a type of sushi consisting of a pouch of fried tofu typically filled with sushi rice.
It is named after the Shinto god Inari, who is believed to have a fondness for fried tofu. The pouch is normally deep-fried tofu, however, regional variations include pouches made out of a thin omelette. Other versions of Inari Sushi include green beans, carrots, and gobo (the taproot of a Japanese Burdock) included in the rice stuffing.
Inari Sushi is a specialty of the head priest of the Shinto Shrine that Luz Ninetei works at. This is also the reason why she works at the shrine as Luz loves Inari Sushi.
Ad blocker interference detected!
Wikia is a free-to-use site that makes money from advertising. We have a modified experience for viewers using ad blockers

Wikia is not accessible if you've made further modifications. Remove the custom ad blocker rule(s) and the page will load as expected.