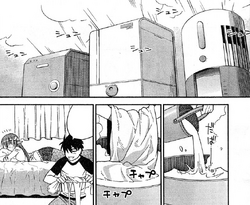 A Humidifier (加湿器, Kashikki) is a device that is designed to increase the humidity (moisture) in an area by introducing moisture into the air (usually through either a fan-based or mist-based system).
Low humidity can cause adverse health effects, by drying out mucous membranes such as the lining of the nose and throat, and can cause respiratory distress. Low humidity can also adversely affect wooden furniture, books, papers, and artworks; causing them to dry out and shrink, warp and become brittle.
Overuse of a humidifier can raise the relative humidity to excessive levels, promoting the growth of dust mites and mold, and can also cause hypersensitivity pneumonitis (humidifier lung). A relative humidity of 30% to 50% is recommended for most homes.
Ad blocker interference detected!
Wikia is a free-to-use site that makes money from advertising. We have a modified experience for viewers using ad blockers

Wikia is not accessible if you've made further modifications. Remove the custom ad blocker rule(s) and the page will load as expected.