Flare
Gallery | Quotes | Relationship
Kana
フレア
Romaji
Furea
Voiced by
Mia Naruse
Physical Appearance
Monster Species
Papillion
Gender
Female
Hair
Green
Eye
Gold
Monster Profile
Occupation
Exchange Student
Media Debut
Flare is a Papillion that appears in Monster Musume: Everyday Life with Monster Girls Online.
Appearance
Edit
Personality
Edit
She's a slave girl that loves to be bound and ordered around. She yearns for her master and waits eagerly everyday for new orders.
Skills and Traits
Edit
Zoological Classification
Edit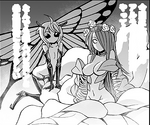 Papillions are a psudeo-human liminal species that share many attributes with the butterfly.
Like a butterfly, a Papillion spends its life-cycle between two forms; a caterpillar "larval" stage and an adult "butterfly" stage. The transformation between larva and butterfly presumably occurs on the cusp of adulthood and within a type of cocoon.
While the larval Papillion seem to have a vegetarian diet, adult Papillions require a liquid diet.
The species is known for sharing a symbiotic relationship with Alraunes where, as the Alraune lures prey in with their sweet smelling nectar (which also doubles as an aphrodisiac), the Papillion would paralyze the prey with their scales, whereupon they would both feed upon the helpless prey.
Papillion is one letter away from the french word for Butterfly, "Papillon."
Flare's wing patterns are based off a Monarch Butterfly.
Ad blocker interference detected!
Wikia is a free-to-use site that makes money from advertising. We have a modified experience for viewers using ad blockers

Wikia is not accessible if you've made further modifications. Remove the custom ad blocker rule(s) and the page will load as expected.