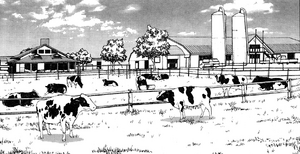 The Ranch is located near the Onsen Town where Kimihito Kurusu and his house guests were residing within until his house was repaired.
A participant in the interspecies exchange program, Kimihito, Centorea Shianus and Papi chanced upon the farm while exploring the countryside and spent the day helping out the liminal farmhands living there; the Minotaur Cathyl, the Pan Merino, and the Barometz twins Ton and Cott, while the farm's owner tended to business off the farm.
Ad blocker interference detected!
Wikia is a free-to-use site that makes money from advertising. We have a modified experience for viewers using ad blockers

Wikia is not accessible if you've made further modifications. Remove the custom ad blocker rule(s) and the page will load as expected.