Ena
Gallery | Quotes | Relationship
Physical Appearance
Monster Species
Melusine
Gender
Female
Hair
Blonde
Eye
Blue
Monster Profile
Occupation
Exchange Student
Media Debut
Ena is a Melusine that appears in Monster Musume: Everyday Life with Monster Girls Online.
Appearance
Edit
Personality
Edit
Skills and Traits
Edit
Zoological Classification
Edit
Main article: Lamia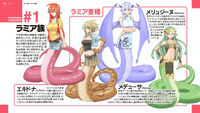 Melusines (メリュジーヌ, Meryujīnu) are a lamia subspecies with dragon wings on their backs. Due to this, they share characteristics with Dragonewts. In contrast to other lamia subspecies, they are more similar to sea snakes than terrestrial snakes and prefer to live by the shore. Sadly, their wings aren't strong enough to lift their long lower bodies, making said wings being more vestigial in nature.

Ad blocker interference detected!
Wikia is a free-to-use site that makes money from advertising. We have a modified experience for viewers using ad blockers

Wikia is not accessible if you've made further modifications. Remove the custom ad blocker rule(s) and the page will load as expected.