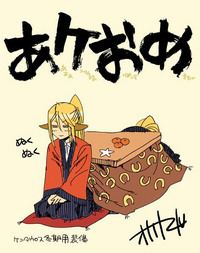 A Dotera (褞袍) is a padded kimono jacket worn during the winter in Japan for warmth. It is the alternative name for the Tanzen (丹前).
Either lined with cotton or made with thick wool, outside of its traditional usage, the dotera is usually regarded as a type of casual wear jacket and has become associated in modern culture with being worn by those who do not care about their appearance (much like tracksuit pants/jackets).

Ad blocker interference detected!
Wikia is a free-to-use site that makes money from advertising. We have a modified experience for viewers using ad blockers

Wikia is not accessible if you've made further modifications. Remove the custom ad blocker rule(s) and the page will load as expected.