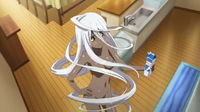 This page deals with Doppel's interactions with the other characters.
Doppel initially appears less than satisfied by Kimihito's indecisiveness towards his marriage choice at first. Going out of her way to send the initial threatening letter and causing the 'D' incident. By the time she is caught, she is visibly frustrated by Kimihito not making anymore progress in choosing.
By chapter 40, she appears to have warmed up to him, but still makes trouble for him, having him help with her pranks (as the bait). She puts his life in danger at various times, but at the end of the chapter, she offers him sexual favor in various forms, to which he responds he wants her to do something in her natural form. Causing her to blush. This is the first time in the series Doppel has shown any hints of affection for Kimihito. It's later revealed he wanted her to put on some clothes.
Doppel thanked the cop for telling M.O.N. where the arachne and the hostage was.
Kurusu Household Guests
Edit
Monster Community
Edit