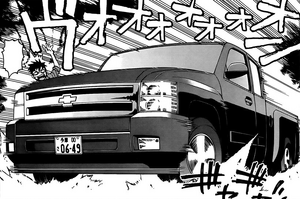 The Chevrolet Silverado (シボレーシルバラード, Shiborē Shirubarādo) is a series of full-size, heavy-duty pickup trucks manufactured by the American automotive company General Motors.
Having earned numerous "Truck of the Year" awards, the Chevrolet Silverado was first introduced in 1999 and was initially designed to be implemented in agricultural environments. However, the model has since been made into many variations; including one variant that serves as a Light Service Support Vehicle in the United States Military.
While in the manga, The Racist Couple drive an 2007-2013 Chevy Silverado; in the anime, the couple's truck is a 1964-1966 Chevy C10 Stepside (a predecessor of the Silverado). The bars on the back window would suggest a sliding rear window which is an aftermarket accessory; not factory.
Ad blocker interference detected!
Wikia is a free-to-use site that makes money from advertising. We have a modified experience for viewers using ad blockers

Wikia is not accessible if you've made further modifications. Remove the custom ad blocker rule(s) and the page will load as expected.