Chapter 49



Previous:

Next:

Debut
The 49th chapter of Monster Musume: Everyday Life with Monster Girls.
Key Events
Edit
Lamprey Mermaids, Leeches, Mosquitoes, Owl Harpies, and Mothmen are revealed to exist.
The vampire's name is revealed to be Curie.

Papi seemingly befriends Curie after finding a locket Curie lost.

After trying to set a trap for the vampire, Kimihito is nearly sucked dry by several blood-sucking Liminals. Weakened by the blood loss, he is kidnapped by Curie while trying to contact Smith.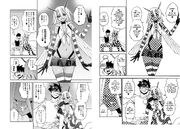 The unnamed mosquito-girl in Chapter 49 is dressed like Shimakaze from Kantai Collection.
There is a notable difference between the magazine and the tankobon versions; in the magazine, the unnamed mosquito-girl was originally shown to have only two arms, which contradicted her later appearances which showed her having four. This was eventually corrected with the tankobon release, where the mosquito-girl is consistently depicted with four arms.

Okayado states that their first appearance in chapter 49 was very incomplete, and as an apology, he asked fans to choose to be one of the male background characters that appeared in the chapter (that's why they all had numbers). He added them in the final release of the volume, along with fixes on the girls: a more gyaru mosquito + two more arms; a more shiny leech + some sort of eye emojis on her face; more makeup for the lamprey girl.