Chapter 48



Previous:

Next:

Debut
The 48th chapter of Monster Musume: Everyday Life with Monster Girls.
Everyone walks around the "Extra-species Cultural Exchange Exhibition". Papi goes into the nocturnal section to go to sleep.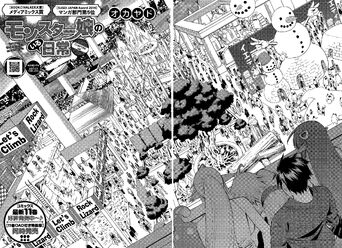 Key Events
Edit
The elf Legolas and the Dwarf Gimli from "Lord of the Rings" make a cameo appearance in this chapter handing over their weapons to the receptionist.
One of the heaters is in the shape of Flowey from the game "Undertale".
The Sports Club Kobold stall features the club's logo, which was first seen in the first Monster Musume: Everyday Life with Monster Girls OAD.
Kimihito mentions that the tail warmer he and Miia were observing at the expo was "like the one he made"; referring to an instance in Chapter 39 when he mentioned that he had sewn a 6 meter tail warmer for Miia as a reason for why his sewing skills had increased when he had to sew Zombina's body parts back together during a fight against Cici.