Chapter 45



Previous:

Next:
The 45th chapter of Monster Musume: Everyday Life with Monster Girls. After handling Kiira, Kimihito and Centorea return home only to find out that their house "transformed" into a dungeon.
Key Events
Edit
It's revealed Kiira was not after Kimihito but rather Rachnera, as the Arachne was indirectly the cause of Kiira's original deportation.
Kimihito and Cerea return home to find everyone (including themselves) hallucinating due to spores released by a Liminal Papi brought home with her.
It's revealed that Meroune's Mother had contractors greatly expand Mero's room, to be more befitting for a princess.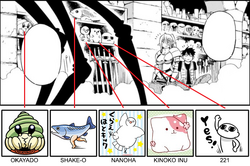 The self-portrait avatars of several mangakas make cameos in Rachnera's pretend shop. Okayado, Shake-O (creator of Nurse Hitomi's Monster Infirmary), Nanoha (creator of The Diary of France), Kinoko Inu (creator of Kinoko Inu (Mushroom Dog)), and 221 (creator of Mako-san to Hachisuka-kun).