Chapter 42



Previous:

Next:
The 42nd chapter of Monster Musume: Everyday Life with Monster Girls.
Key Events
Edit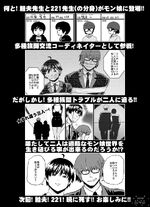 The two agents afraid that Manako can read their minds with her eye (because they like her) are caricatures of Okayado's fellow mangaka Shake-O (the one with the glasses and eyelashes) and 221. The additional gag is that both are making manga about a one-eyed girl, Nurse Hitomi's Monster Infirmary and Mako-san to Hachisuka-kun respectively.
Ad blocker interference detected!
Wikia is a free-to-use site that makes money from advertising. We have a modified experience for viewers using ad blockers

Wikia is not accessible if you've made further modifications. Remove the custom ad blocker rule(s) and the page will load as expected.