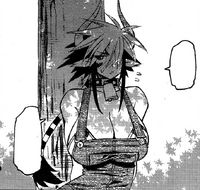 This page deals with Cathyl's interactions with the other characters.
After the fight with her boyfriend, Cathyl sought Kimihito's help to Milk her, even when he was a complete stranger to her, as she was overdue to be milked and her chest was getting painful. Thanks to him, she realize that her boyfriend was not cheating on her and they both reconciled. On chapter 43, Cathyl remember how gentle Kurusu was when he was milking her and then she blushed.
Cathyls boyfriend/Farm Owner
Edit
Kurusu Household Guests
Edit
Farmyard Members
Edit
Cathyl gets along with them.
Black Lily Ranch Members
Edit