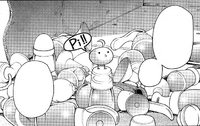 A Breast Pump (搾乳器, Sakunyū-ki) is a device designed to manually extract milk from a lactating breast by using suction to pull the breast nipple into a flange, and then release, in similar motion to suckling. Most breast pumps also possess a container to deposit the expressed milk.
The use of a breast pump can be for a variety of reasons. Many women use breast pumps to bottle feed their child. A breast pump may also be used to stimulate lactation for women with a low milk supply or those who have not just given birth. A breast pump may also be used to relieve breast engorgement, a painful condition whereby the breasts are overfull and must be emptied.
While it can be used as an alternative, the breast pump is not as efficient at removing milk from the breast as most nursing babies.
Ad blocker interference detected!
Wikia is a free-to-use site that makes money from advertising. We have a modified experience for viewers using ad blockers

Wikia is not accessible if you've made further modifications. Remove the custom ad blocker rule(s) and the page will load as expected.